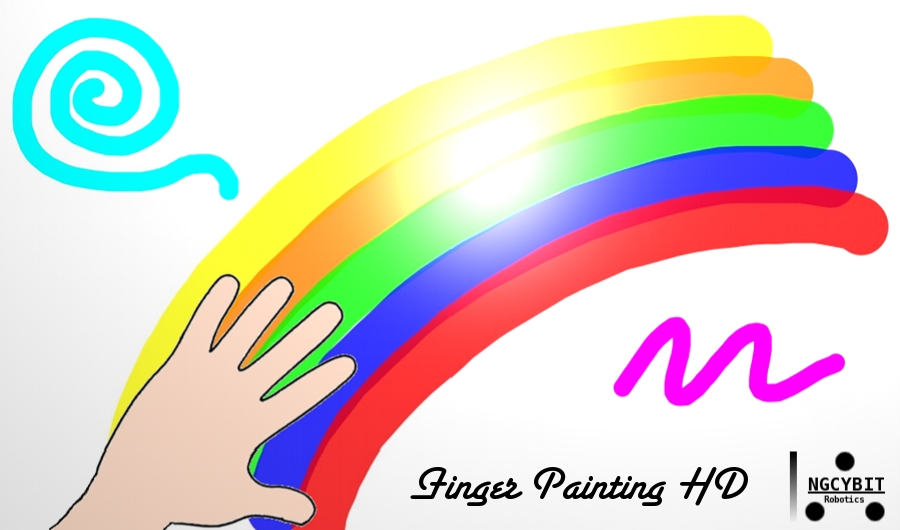 Finger Painting is a Multi-Touch freehand drawing board. With Finger Painting you can live an experience of drawing with the fingers of your hands.
The software allows the selection of infinite possible colors using RGB components controls or through the use of preset color palette and the color picker.
For the chosen color user can choose the level of transparency and the size of the brush.
Each stroke is stored as a single object in a separate file, so you can go back in time and cancel the last stroke or close and reopen the program and find the device like in the last session of use (when you start the program the last drawing is reloaded automatically). It is also possible the cancellation of the latest drawing changes also in the next session of use (when you close and restart Finger Painting app, the undone function is still available).
The zoom (in, out), pan (left, right, up, down) and under fingers preview allow the designer to enter and modify the drawing in a very detailed way.
The drawing size in pixels is infinite, You can then create designs of any size.
The program also allows You to export, share (ex. with Dropbox / Apple Files / iTunes File Sharing or other installed apps) and save the project (ex. in the photo album of the device or in the projects archive, to send it by e-mail or AirDrop).
Features:
- MultiTouch (preview under fingers from 1 to 4)
- Drawing freehand with the fingers
- Color, transparency and brush size can be selected
- Airbrush
- Color Filling
- Eraser
- Zoom In / Out
- Pan Left / Right / Up / Down
- You can save the drawing in the device Photo Album or in the Projects Archive
- Under finger dynamic drawing preview (when you draw you can see exactly whats happen under fingers)
- The color of the background can be changed in any time
- AutoPan for work area during drawing (if you reach the border of the screen, Finger Painting shifts automatically the work area so you can draw lines longest of the selected work area on the screen… you have not to use the "zoom out")
- Graphics accelerated (Finger Painting has high graphics performance also after hours of work)
- Full screen drawing
- AirPrint
- CAD TOOLS: line, rect, circle, free, etc…
- DRAWING GRID
- Draw on a background image: draw on a picture imported from the photo album