pathRecorder - come back
( 3 articoli )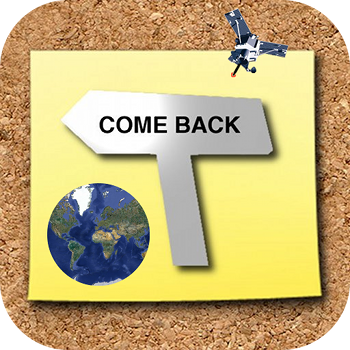 Do you love hiking in the mountains?
Do You follow the mountain trails with your jeep or your mountain bike?
Do you like sailing?
Do you want to mark your points of interest on the route, the points where you have to be careful, etc...?
Do you want to save a position of interest (ex. for fishing or diving) and return to the saved point of interest in the next days?
Do not want to get lost and be sure to return to the starting point (home) of your trip?
Do you want to be able to send an SOS with your current position, the registration of the route taken and the request for help?
Do you want to share the recording (numerical data of position, speed, route, orientation, timestamp) of your route with the related navigation data?
pathRecorded - come back is the right application for you.
You can also:
- Register your trip by pressing the "Rec" (route recording) button
- Record a single point of interest by pressing "Rec" and "Stop"
- Go back (return to the initial position of the voyage or go to the saved point of interest by pressing the "ComeBack" button)
During the "Comeback" function it will be possible to start a new path by pressing the "Rec" button: the application will continue the journey from the current position.
Other characteristics:
- Ability to save the recorded routes using text files
- Archive for saved routes
- File manager to load, rename and delete saved routes
- "AirDrop", "iTunes File Sharing", "Open In", "iCloud Drive", "Dropbox", etc ... "SOS email" to share the recorded route data
- Recording of the path on a text file (format: .csv) that can be imported into any Text Editor, Excel, Numbers, Openoffice Calc, etc... for future analysis:
* registered .csv file: latitude (deg); longitude (deg); course (deg); speed (m/s); altitude (m); heading (deg); timestamp (sec); waypointID (int);
* possible waypointsID (integer) (stored points of the route): 0: NORMAL, 1: INTEREST, 2: ALERT, 3: SOS
NOTES FOR NAVIGATION:
This route navigator / recorder has been designed to work in different places than commercial car navigators.
It is therefore suitable for routes where cars can not travel (ex. in the sea or in the mountains) but can also be used on cars, on normal urban or rural roads or on mountain / forest paths.
INTERNET CONNECTION NOT NECESSARY:
Internet connection is not required for navigation, route recording ("Rec") and return home ("ComeBack").
Application type:
- UNIVERSAL APP