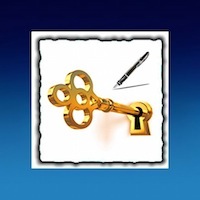 Secret Notes is a safety box where you can create, write, save and view your text files, your passwords, your private documents, the data of your accounts, etc ...
All files stored in the archive will be protected by a password and will not be accessed by unauthorized persons.
Very useful for those who travel and want to safely transport so secret written text.

Compatible formats:
- Text files
etc…

File management using the "secret Notes Archive":
- Files archive (You can create or store an infinite number of files into the archive)
- Add new file (create new text document, documents sharing, copy)
- Sharing file with other apps
- Rename file
- Delete file

File sharing:
- DROPBOX, iCloud Drive (remote storage system, cloud), etc…
- Open In
- The written text documents can be sent with an email
- AirDrop
- Export on PDF file
etc…

Printing:
- AirPrint: print all your written notes using the secret notes print button

App type:
- UNIVERSAL APP (you pay it only once and runs on all your devices)

Documents creation:
Create your text documents using the integrated text editor of "secret Notes"