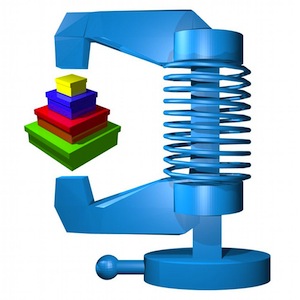 Do you miss the WinZip or 7-Zip?
You need to decompress an email attachment (.zip or .tar) or a compressed file (.zip or .tar) that you find on the web or you've saved on dropbox (using "Open In"), to view its contents?
Do you want to extract the files contained in a compressed archive .zip or .tar and share them with another program installed on the device (for example, to edit the shared file)?
You have to compress many files stored in Your device (documents, music, video, pictures, etc…) in only one .zip file and send them with an e-mail, archive them or share with other installed apps, as you normally would when using WinZip or 7-Zip with your MAC or PC?
"unzip + zip & send" is the right application for You!
"unzip + zip & send" is exactly what was missing in order to send a lot of files with an only one email attachment, using a single compressed file (.zip):
- Add to the "NEW ZIP ARCHIVE" all the files you want to send by email by selecting them from the list "LOCAL FILES" and by pressing the button "+"
- Compress the added files by pressing the button "Zip" (it will create a single compressed .zip file)
- Send the compressed .zip file (containing all the chosen files) with an email attachment
This application allows you to:
- Send many files (of any type) with a single email
- Speed ​​up sending a lot of files
- Save data traffic on the Internet
- Send many documents in a single file (.zip)
- Store your documents organized in compressed archives
- Save memory on the device

Features:
- Extract files from compressed archives .zip and .tar
- Compress files and create compressed archives (.zip), that can be sent by e-mail (a compressed file .zip takes up less disk space of their uncompressed files)
- "Zip Archive Manager" for managing compressed archives (.zip): add files, remove files, compress the files added in the current zip archive, send them by email, share them with dropbox or with other applications installed, explore/view files
- "Files Archive": creates and stores in the file manager of "unzip + zip & send" an endless number of .zip archives and all your files (for example, some not yet compressed files to be added and compressed in a new archive .zip)
- "Merge" to create a new zip archive using files compressed and stored in other zip archives
- Extract files, folders and subfolders
- Navigating the file system, with the ability of exploration of files contained in folders and subfolders
- "Files viewer" to view MS Office documents (Word, Excel, PowerPoint), iWork (Pages, Numbers, Keynote), video (media player + airplay), photos, music, web pages, iWord PRO documents, PDF, RTF, TXT, etc...
- folder files slideshow (for each file type): for example you can browse (forward, backward) your photos, documents, videos, music organized into directories and subdirectories

UNIVERSAL APP:
- You pay it only once and it runs on all Your devices.